Mass Times
Saturday 5:00 PM (Apr.-Sept.) 4:00 PM (Oct. -Mar.)
Sunday 8am (Nicollet), 10am (St. Peter)
Weekdays 8:00 AM (Mon., Tue., & Fri.) 8:15 AM (Thur.) Subject to change. Please see the bulletin.
Sunday 5:30 PM Lifeteen Mass once a Month
2018-2019 Dates: October 14, November 4, December 2, January 13, February 10, March 10, April 7
Holy Days see bulletin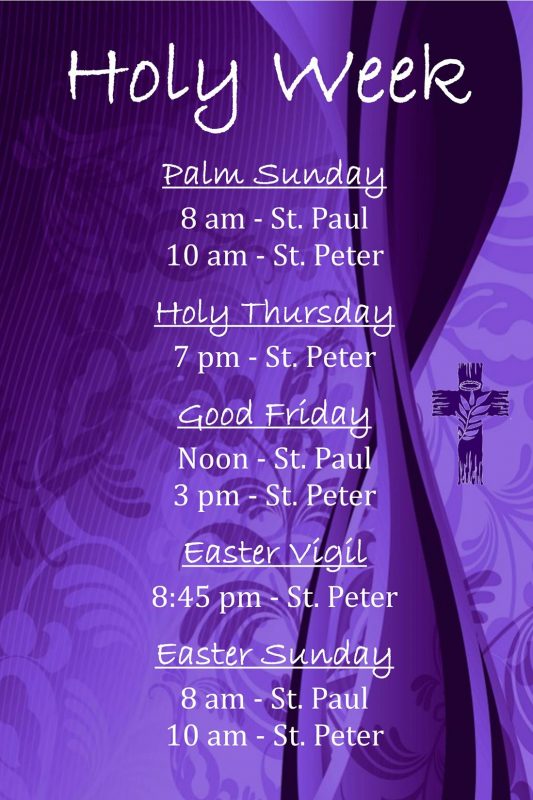 Exposition of the Blessed Sacrament
Adoration: Thursdays 1 – 10 pm in the Chapel of the Resurrection. More about Adoration.
Additional
Sacrament of Baptism: By appointment after preparation. Contact Mary Grack (mary.grack@churchofstpeter.org) to sign up for preparation classes.
Sacrament of Anointing: As needed. Seasonal Services during Lent & Advent.
Sacrament of Marriage: Contact Fr. Todd (todd.petersen@churchofstpeter.org) for details of preparation.
Funerals: Fr. Todd (todd.petersen@churchofstpeter.org) is notified of a death and preparations/grief ministry follows.