Reconciliation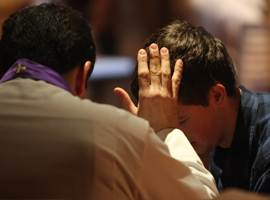 The Sacrament of Reconciliation is offered regularly on weekday mornings at 7:30 a.m. and on Thursday afternoon at 3:30 in the Chapel. Check the weekly bulletin for this week's schedule. This sacrament is available by appointment as well. Email Fr. Todd at Todd.Petersen@churchofstpeter.org or call (507)931-1628 to set up a time to receive the Sacrament of Reconciliation.
Has it been a while since your last confession? Wondering how to prepare the Sacrament of Reconciliation? Read more about Reconciliation here.
Each year the students in the 2nd grade or above in Youth Faith Formation and John Ireland School are prepared to celebrate First Reconciliation. Parents preparing their children for 1st Reconciliation will find the videos for lessons on the 1st Reconciliation Page.
Adults wishing to receive First Reconciliation are encouraged to join the Rite of Christian Initiation of Adults (RCIA) program.