***Every Friday I will upload a new "Peek of the Week" to help you stay up-to-date on the happenings of our busy 5th grade!
Please check them out to discover more about our class and how we are growing and learning!
Preschool Pals!
Pyramids and Shape Making in Phy Ed!
Stations of the Cross!
We worked hard to analyze the characters in the passion of Jesus in order to understand the emotions and actions they were feeling and doing, before taking that understanding and figuring out how to display it through our shadows.  Here are a few quick pictures from it! If you have 8 minutes, you can watch our dress rehearsal at this link: https://www.youtube.com/watch?v=27TbuWmvUK8&feature=youtu.be
Wood Burning Art Project!
We designed and wood-burned coasters for St. Joseph's Feast Day!  With a lot of patience, effort, and time, the students all created masterpieces!
Genius Fair!
They did a spectacular job presenting their learning to the judges! Here are pictures of a few of them!
Preschool Pals!
We practiced our leadership skills and had a lot of fun reading with the preschoolers this week. We also helped them with a valentine sorting and graphing activity.
Fear Factor!
Mrs. Wear visited our class and reviewed the food pyramid with us.  She then taught us about the five main colors of fruits and vegetables, and the nutrients/vitamins each color provides us with.  After that, 5th grade was challenged to face their fears and try every single kind of fruit/vegetable that she had brought.  There were many new and interesting things for us to try including dragon fruit, jicama, fried turnip, tomatillos, and dates!
Special Visitor!
We really enjoyed getting to meet little Ewa (pronounced ev-a) when she came to visit!
Baptism of Jesus Prayer Service
Physics Force Field-Trip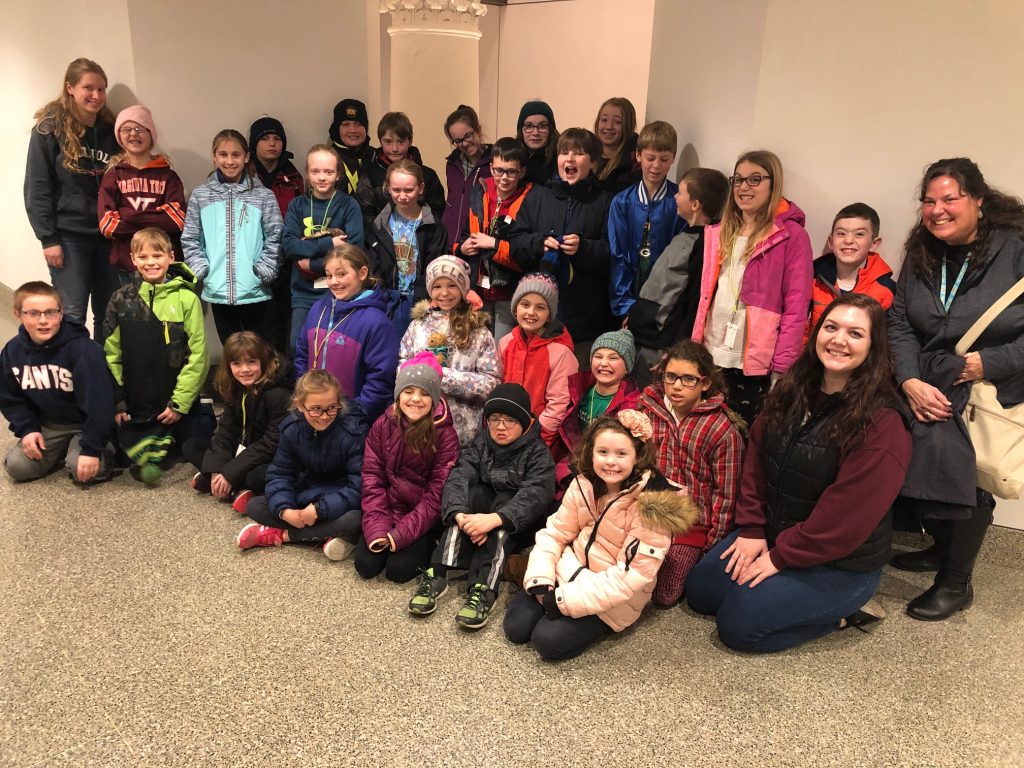 Fleece Tie Blanket Service Project!
Our Advent Service project has been a tremendous success thanks to the support of so many people and the hard work of the students!  We collected $460 and made 35 fleece tie blankets!  We really exercised those hand muscles!
Science and Nature Field Trip!
Here are just a few pictures that a parent sent to me from the Science and Nature field-trip we took with the 6th graders.  Since, each student chose their own sessions to attend, we were quite spread out, so most of us didn't get our pictures taken. We learned a lot and had loads of fun, anyways!
Archangel Prayer Service!
St. Michael, St. Gabriel, and St. Raphael came and visited a classroom to teach the students more about themselves.  They did a fabulous job playing their roles!
Team Building!
It's not as easy as you'd think to stack ten cups into a pyramid using only strings attached to a rubber band.  Working together is a requirement for success!  Each team managed to stay positive, have fun, and pull it off in the allotted time frame!
________________________________________________________________________________
Welcome to Fifth Grade!
A little about Ms. Pieper:
I grew up in Jordan, MN, on my family's small beef farm.  As the oldest of six children, I was my Dad's 'right hand man' and helped him with everything from feeding the cows, to harvesting the crops, and fixing the machinery.  I loved every minute of it!  The year I started third grade was also the year my family started homeschooling.  We've been homeschooling every year since then, and it has truly blessed us as a family through closer relationships with each other.  Cause when you only have your siblings to play with, it's either get along and love, or die trying!
I attended MSU, Mankato through a satellite program in Edina, and obtained my degree in Elementary Education in the spring of 2016.  This enabled me to live at home while continuing my education and still help out around the farm as well as continue working on a nearby dairy farm milking 250+ cows. I worked there for seven and a half years and still milk some weekends simply because I love working with the cows. Plus, the physical work can be a relief after all the mental work involved with teaching!
I have attended two World Youth Days as a pilgrim: the one in Madrid, Spain, in 2011 with Pope Emeritus Benedict XVI, and the WYD in Krakow, Poland in 2016 with Pope Francis.  These pilgrimages have enriched my life deeply and have taught me so much about myself, our Catholic faith, and the universalness of our Catholic Church.  It's definitely awe-inspiring to be surrounded by two million youth congregated from six continents and realize you're all there for the same reason, to celebrate and grow in our Catholic faith!
This is my third year teaching, and my second year at John Ireland Catholic School.  I teach all fifth grade subjects as well as 6th grade math.  I'm truly excited to not only continue teaching in a Catholic environment this year, but to grow and learn with all my new fifth graders!